Relief, If Not Pleasure: Budget Debate Nearing End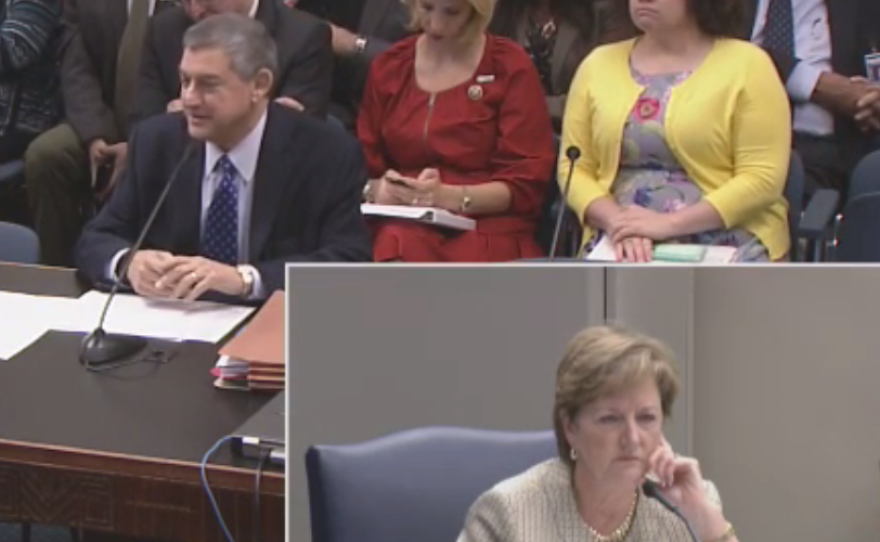 Dardenne explains the compromise to Sen. Sharon Hewitt
screenshot from legis.la.gov
Probation and parole officers swarming the Capitol
Sue Lincoln
"This is essentially the same bill that we passed out a couple of weeks ago, that we thought was responsible and made complete sense," Senate Finance chair Eric LaFleur told his committee. "It just took a little, a week I think, for the House to come around. And I don't foresee it getting any better than it is now."
And as Senate Finance took up the do-over of HB 1, LaFleur was reflecting the feeling of most lawmakers -- relief that the House standoff over the budget has come to an end.
Relief is one thing: being pleased with specific provisions of the bill is another. As the governor was signing criminal justice reform bills into law a few floors above the committee meeting room, probation and parole officers complained to the senators this budget doesn't do enough to equip them for increased caseloads.
"We want to start out by saying thank y'all for all the listening y'all have done, the attaboys we've gotten, the promises we've gotten, the commitments we've gotten. If we could fund our raise on promises, attaboys and commitments, we'd already been gone from the Capitol," Danny Barras, legislative liaison for the Louisiana Probation and Parole Officers Association said. "But we have a need and it's an immediate need. That's not going to wait for us to get beefed up. That's happening now."
Senator Sharon Hewitt of Slidell, who had heaped praise on a nearly equivalent version of the budget bill when the committee approved it during the regular session, said she has problems with something the House added to this version. Known as the "deficit reduction plan",it requires the administration to hold back on spending $60-million, in case a mid-year shortfall develops.
"The $60-million, it is a little bit of a drop in the bucket," Hewitt said. "It's not nearly as much as I would like."
But Commissioner of Administration Jay Dardenne advised, "It's no secret this is the compromise negotiated by the administration and the House leadership, with the knowledge of members of the Senate, as well, because we're trying to get this resolved and get this done."
Lake Charles Senator Ronnie Johns was pragmatic in his assessment of the latest HB 1.
"This is not the perfect budget, and we know that. I've never seen a perfect budget. But considering what in the world we had to work with this year, it's come out pretty darn decent."
The committee sent the bill to the floor on an 8-3 vote, and the full Senate will consider it when they convene this morning at nine.